Trerice BX9140307 Blue/White/Black Cast Aluminum Adjustable Angle Industrial Thermometer, 9 in Scale, 3-1/2 in Stem, 30 - 240 deg F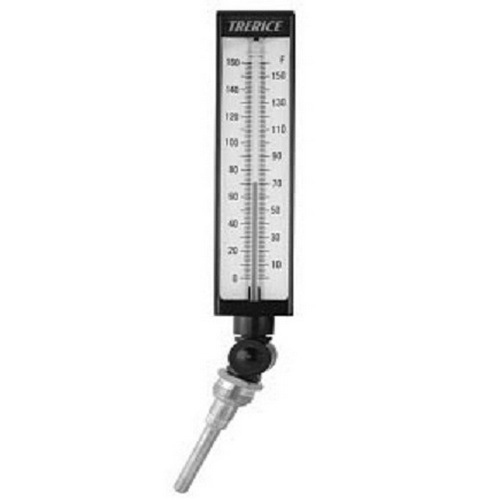 A thermometer is an instrument designed to measure and indicate the temperature of a specific application or condition. An industrial thermometer, commonly known as a liquid in glass thermometer is installed at the point of measurement and is usually read from that location.
Thermometer is comprised of a liquid filled sealed glass tube and bulb, which is affixed to the front of a metal temperature scale, and extends into a metal bulb chamber
Flaked graphite is used within the bulb chamber to transfer the measured temperature to the glass bulb
Temperature changes cause the thermo active fill to expand or contract within the tube
This activity is instantly visible in the tube against the calibrated markings of the temperature scale
For purposes of readability, the tube is formed with a lens front to create a magnified indicating column
Standards/Approvals: Compliant with "Lead Free Drinking Water Act"