Bradford White® ElectriFLEX HD™ CEHD-120-6-3CF Commercial Electric Water Heater, 120 gal, 6 kW, 1-1/2 in NPT
Water Heaters
455355
MFG #: CEHD-120-6-3CF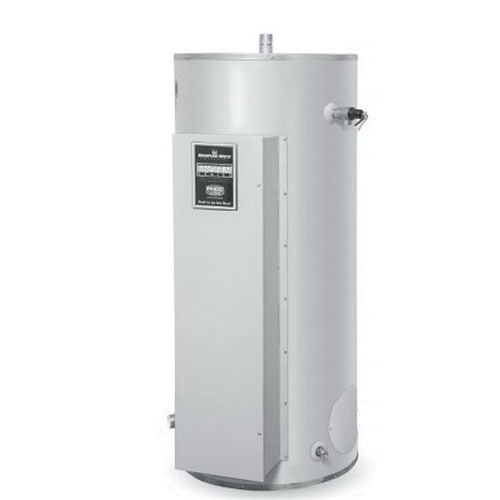 ElectriFLEX HD™ models easily convert to your exact requirements. They're available in 50, 80 and 119 gal capacities and 12 different wattages so professionals have the solutions to any challenge. Just three ElectriFLEX HD™ models in each gallon capacity will cover all kW configurations and thereby reduce needed inventory. ElectriFLEX HD™ models are perfect for large restaurants, health clubs, stadiums, schools, and just about anywhere large volumes of hot water are required.
MANUFACTURER DISCLAIMERS:
Bradford White manufactures products for installation by qualified professional contractors with applicable state and local licensing. Bradford White Corporation assumes no liability for products installed outside of the installation recommendations in the product's official installation and operation instruction manual. Bradford White only assumes responsibility for verified manufacturing defects as stated in the applicable Bradford White limited warranty for your product.

It is the purchaser's responsibility to purchase products that meet state and local codes for the intended installation site of the Bradford White product.
Immersion thermostats designed to provide outlet water at a thermostatically controlled temperature greater than 180 deg F
Conversion kits design for field conversion and to convert any one model to a variety of voltages and kW inputs
Insulation system 3 in non-CFC foam insulation covers the sides and top of the tank, reducing heat loss and this results in less energy consumption, improved efficiencies, and jacket rigidity
Factory installed hydrojet total performance system cold water inlet sediment reducing device helps prevent sediment buildup in tank and increases first hour delivery of hot water
Vitraglas lining an engineered enamel formula that provides superior tank protection from the highly corrosive effects of hot water and fused to the steel surface by firing at a temperature of over 1600 deg F
Water connection factory installed true dielectric fittings extend water heater life and simplify water line connections
Elements screw-in style low watt density incoloy sheathed elements standard and resist burnout caused by dry fire or lime buildup
Two protective anode rods provide added protection against corrosion for long term, trouble free service
Hand hole cleanout allows inspection of tank interior and facilitates the removal of sediment deposits
Durable tamper proof design low restrictive brass drain valve
Temperature and pressure relief valve installed
Completely prewired with pressure lug terminal block eliminating need for splicing or taping of wires
Standards/Approvals: AHRI Certified, ASHRAE 90.1b, ASME Specified, C.E.C. Listed, CSA Certified, ETL Listed, NSF Certified