Because You Care Day - Kyle on Mission in YAP
6/16/2018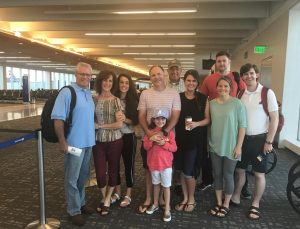 Every year, each Eastern associate receives five Because You Care Days to use for volunteerism, community involvement, mission work, or similar events. Kyle L from our Greenville Distribution Center shares how he used his BYC Days to serve.
From Kyle:
From 6/8-6/16, I had the opportunity to spend a week in Yap with wonderful friends and missionaries that my church supports, Paul and Sherry Zimmer, who have served on the Island since 2001. Yap is the westernmost state of the Federated States of Micronesia, a 90-minute flight southwest from Guam. We serve a great God! The Lord has added many to His church in Yap through Paul and Sherry's ministry, and it was wonderful meeting so many from the church there who we'll see again in glory.
One of our purposes for this trip was to help Paul with his building project. He's constructing a new school building, which will be the biggest concrete structure on the Island of Yap when it's completed next year. Paul has a team of roughly 30 workers who come from all over Yap and the outer islands. Before beginning each work day, Paul preaches the Gospel to his crew through a daily Bible study and prayer. God is using this to bring the workers one-by-one to a saving knowledge of Jesus! To pay for the new school building, Paul and Sherry have relied on God to provide all the funds needed to construct this Typhoon and Termite-proof building that will stand the test of time in the intense tropical climate. The government of Yap has even contributed to the project in exchange for making the building the go-to Typhoon shelter for the southern part of the island. God continues to provide all the funds necessary and continues to demonstrate His Grace throughout the project. The cement pump broke while we were there, and a few of us spent the day praying a lot, taking the pump apart, fixing it, and putting it back together. By the end of the day, it was running perfectly! Another project our team took on was installing 64 commercial windows on the first floor of the building, which we were able to complete by Wednesday. When we weren't working, we were fishing, snorkeling, playing basketball, exploring the island, trying out the different island restaurants and enjoying the wonderful fellowship with Paul, Sherry, and their children. It's incredible when God combines your passion and what you love to do with what you need to do. That's fishing for Paul. God blessed him many years ago with a 25ft beat up boat that he was able to strip, refoam, and refinish the inside to turn out a sturdy fishing boat that supports 4 offshore heavy-tackle saltwater reels. With that, and 2 hand-lines, Paul can have 6 lines in the water at any given time waiting to catch a monster! Anything he catches feeds his work crew, the ministry team, and the village, and so his ability to catch fish plays a vital role to the Zimmer's ministry on the island.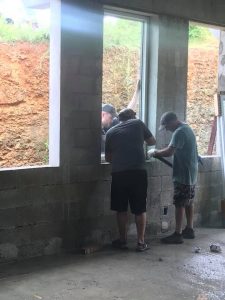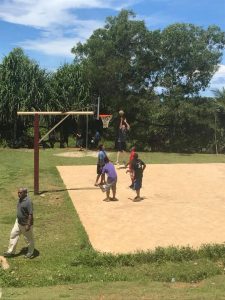 On Monday 6/11, we found out that one of the church member's mother had died unexpectedly of Dengue fever. When a family member dies, it's tradition for all the extended family to come to the house and mourn all day. After work that afternoon, Paul, myself and a few other men from the missions team went out to try to catch a big fish so the family could feed all their relatives. Before we left the dock, we prayed that God would provide a huge fish that would feed the family while they were in mourning. Once we got out to sea, we prayed again that God would bring us a big fish to give to the family. For the first couple of hours, we caught a couple barracuda and rainbow runners, but nothing too crazy. Each time we'd get something on the line, we wondered if that was going to be the big hit. Never doubt that when you're in the center of God's will walking in His Grace that He will answer your prayers — He's the God who created us and knew us before we were born (Gal 1:15-16)! We'd waited roughly another half an hour without so much as a bite, when all of a sudden, something big smashed the line and shook the boat! The fish didn't jump out of the water so we couldn't see what it was. We all worked together to reel the thing to the boat. When we got it along side we realized we'd just caught a 5-6ft Silky Shark weighing 75-100lbs, perfect for feeding a big family for a couple days! What's more, shark was their favorite fish to eat, and the Silky shark, was one of their favorite shark meats! On Paul's way to dropping off some of our team members just down the road where they were staying, they made a detour to drop the shark of at the family's hut. When they pulled up to the lodging, the whole family was sitting outside, mourning in silence. Paul and another team member were holding the shark to the roof of the car as they drove. As they came to a stop in front of the family, they lost their grip on the shark, and it slid down the windshield and landed on the hood right in front of all the Yapese watching in silence! Everyone got extremely excited and started smiling and chattering back and forth. The family came running up thanking Paul for the fish. We're so thankful for a God who cares about us and answers our prayers!
Please pray for Paul and Sherry as they continue to serve in Yap. God is doing a great work on the island. They currently have over 100 enrolled for the next school year with many on the waiting list that they simply don't have room for until next year when the new school building is complete. The school needs national teachers willing to dedicate themselves to teaching these children. Yap needs national pastors who will be strong in the faith and willing to go to the outer islands to establish churches. Also pray that the island will be able to finish establishing a strong WiFi network, which will allow Paul and Sherry to offer online college courses to prospective students. Pray that God will continue to work in the hearts of the Yapese People and call them to repentance and faith in Jesus Christ. He is Mighty to save.